10 Stunning pictures of Kangana Ranaut`s 48 crore Pali Hill bungalow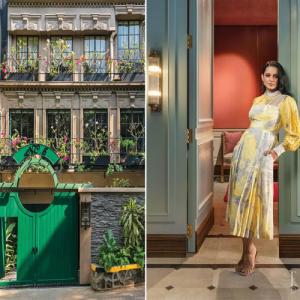 Bollywood actress Kangana Ranaut cherishes a lavish workplace in Pali Hills, designed by celebrity designer Shabnam Gupta and Kangana. Being eco-friendly, plastic-free, stylish and cosy at the same time, the office is a dream workplace in a real sense. The multi-storey building was reportedly purchased by Kangana a few years ago; it has an additional 565 sq ft parking space. Take a look:-

Interior designer Shabnam Gupta who revealed one can look at the greenery from every window. She added that the building has been modified to bring in more light and keep it airy.


TAGS : 10 stunning pictures of kangana ranaut 48 crore pali hill bungalow, kangana ranaut, pali hill bungalow, bollywood news, bollywood gossip, lockdown, ifairer